Another example of why not to sign your mortgage renewal offer
February 18, 2015 @ 9:47 AM by:

Posted in
Miscellaneous
|
Back to Main Blog Page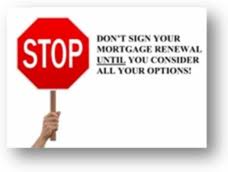 A great example today of why you should never sign and return the renewal agreement that your bank sends in the mail.

I have a client I recently helped renew a mortgage with a lender I placed them with 5 years earlier. 90 days prior to renewal, I helped them lock down a really good rate which was renewed over the phone.

Yesterday, the same client calls me back after having received 2 pieces of mail from their lender. The first was a disclosure statement detailing their renewal, while the second was a renewal solicitation offering some special 'limited time offers'.

The problem? The limited time offer was in fact 0.25% higher than the rate I helped my client obtain (which they had already accepted). Based on the 5 year fixed rate term they had selected and the balance of their mortgage, they saved nearly $2700 by giving me a call and getting some advice prior to renewing.

Did I make any money off this transaction? Not a penny. But at the end of the day, I have a satisfied client that will hopefully bring up my name if a friend or colleague is in need of a mortgage.

The moral of the story? Don't simply sign and return the offer your bank sends you on renewal. If I can't help you leverage your existing lender into offering you a better deal more in line with the marketplace, maybe it's time to consider switching lenders......